As of a few days ago, the current count of phones that will ship with Windows Phone 8 is…five. Two from Nokia, two from HTC and one from Samsung.
With Windows Phone 8 set to officially launch in October, it seems that many phone manufacturers wish to jump on the wagon and make some money. In this day and age, any competition is good, pushing companies to one-up one another creating the better device and consumers reaping the rewards. As long as no company is copying another, all is good (won't go too much into the recent Apple vs Samsung fiasco because to be honest, who cares?). So what is currently being offered by the three big non-fruit phone makers then?
I shall start with the Samsung Ativ S. For all those hoping for something different, you will be disappointed. It is as if Samsung has taken the Galaxy S3 and put WP8 on it with a compatible CPU. The Ativ S has the same 4.8 inch display, almost the same form factor (although less "round" than the S3) and the same 16GB or 32GB option plus microSD card slot.
The Nokia Lumia 920 and 820 are a different story. Building upon the reasonably successful design of the Lumia 900 and 800, the successors are set to take back what was rightfully Nokia's – the claim to the mobile phone throne. The only differences between the two Lumias are the Lumia 820 has a smaller form factor and has a 4.3 inch 480 x 800 pixels display using AMOLED technology, 8GB of on-board memory plus an added microSD slot. The Lumia 920 does away with the microSD slot and gives everyone 32GB of memory. There is a 4.5 inch display pushing 1280 x 768 resolution, yes that is beyond HD 720p (slightly taller than widescreen) @332 ppi density – higher than retina. The touch screen technology is IPS with ClearBlack offering incredible vibrance contrast and is super sensitive meaning that one no longer has to use just their fingers to navigate their phone; a great feature especially if you use gloves or prefer to use a pointer for writing and drawing. The Lumia 820 has interchangeable covers one of which includes a wireless charging backplate but the Lumia 920 has this as standard.
Both phones will have front facing cameras, albeit the 820's one only being capable of VGA whilst the 920 one is capable of 1.2MP. As with the main camera, the 820 will have an 8PM camera plus flash whereas the 920 will have a 8.7MP one with PureView with Optical Image Stabalisation and a camera backlighting technique that captures low light images as if they were shot during the day.
Both phones will be available in a selection of colours, are LTE (4G) capable and will be offered exclusively on UK's 4GEE (Everything Everywhere) network, which is a bummer for guys like me who aren't on T-Mobile or Orange, EE's partner networks, and wanted to upgrade later this year.
And finally we get to HTC. HTC unveiled its newest Windows Phone 8 devices, the 8X and 8S. With a similar naming scheme to the One X and One S, one would expect the WP8 siblings to have similar specs and appearance, just like with any HTC product, and one would be right, sort of. The HTC 8 series boast unibody designs and a selection of colours with the 8X being the larger one with a 4.3 inch display and the 8S with a 4.0 inch one. The 8X display sports a nice 720p resolution and the fact that is it 0.2 inches smaller than the one in the Nokia 920 means it has a density of 342 ppi, giving it the crown of density along with Sony's new Xperia range. The phones will have the same processor as the one in the Lumia range. Like with all HTC phones, the classic flip clock interface is now present as a large live tile. Microsoft CEO Steve Ballmer praised the newfound partnership with the Taiwanese mobile giant but mentioned nothing of the all important billion dollar partnership Microsoft has with Nokia. What is interesting is that the HTC phones are WP8 signature ones, whatever that means, and Nokia's Lumias aren't. It is doubtful that this will make any difference to any of the sales, followers, stocks, arguments or trolling at all.
During all the announcement events, the most anyone had to see of any software was at Nokia's, where it showed apps such as City Lens – augmented reality showing POIs overlaid on your camera display. Microsoft has been very tight lipped about its operating system, which can either mean it is still unsure about something, perhaps a bug, and is unable to suppress it during any demo, or that it is highly proud of its creation and doesn't wish to display anything until the actual release. Whatever the case, here's to hoping it will be great.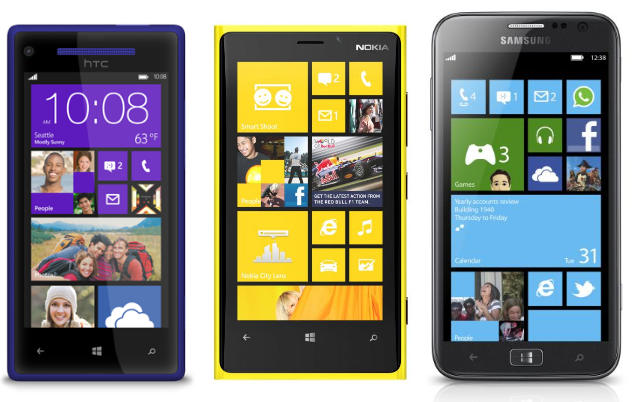 While the selection of devices is a bit thin, all the phones released offer something that the Apple iPhone 5 does not and that is the fresh factor – the feeling of using something new that no longer feels outdated. BlackBerry has suffered this recently and the more learned of the iPhone 5, users are definitely feeling that Apple's innovation may be grinding to a halt. There will no doubt be those arguing about the amount of apps in the iTunes store compared to the Windows one but the point is that the main and most useful apps such as the social networking ones, RSS and mail clients, camera and productivity tools are available on both platforms.